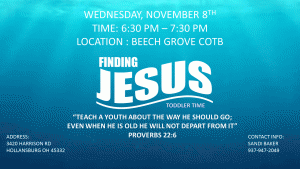 SCHEDULED DATES ARE THE 2ND WEDNESDAY OF EVERY MONTH
NOVEMBER 8TH, AND DECEMBER 13TH
MEETING AT BEECH GROVE CHURCH 
TIME:  6:30 PM – 7:30 PM
TODDLER TIME is a fellowship amongst kids 2 years old up to Kindergarten. During their time together, they will have a theme to make a craft, learn a song, and color a picture. The crafts will then be mailed to the people of the church that are unable to attend. We have several people that are sick or unable to attend for some reason that would love a connection to the church. On special occasions the toddlers will get together and visit these people that are able to have company.
The TODDLERS will learn to:
REMEMBER those who can not be with us,
PRAY for those who can not be with us, &
LOVE those who can not be with us to fellowship on Sunday mornings.