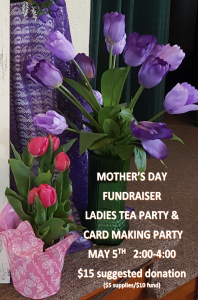 THANK YOU TO ALL WHO ATTENDED! IT WAS A GREAT TIME OF FELLOWSHIP!
SUNDAY, MAY 5TH              2:00 – 4:00 PM
THIS FELLOWSHIP/FUNDRAISER IS FOR THE LADIES OF THE CHURCH AND THIER DAUGHTERS, SISTERS, AUNTS, NIECES, COUSINS, FRIENDS, AND WOMEN IN THE COMMUNITY.  (ANYONE OLD ENOUGH TO CRAFT.)
WE WILL BE ENJOYING FINGER FOODS LIKE HAM SALAD SANDWICHES, CHOCOLATE COVERED STRAWBERRIES, BISCOTTIS, GRAPES, MINI MUFFINS, CHOCOLATE CANDIES, AND MORE.
WE WILL HAVE A FELLOWSHIP/MOTHER'S DAY STORY, THEN IT WILL BE TIME TO PUT OUR CREATIVE MINDS TO WORK AND MAKE CARDS FOR YOUR LOVED ONES.  THERE WILL BE CRAFT SUPPLIES, CARD STOCK (FOR CARDS), STAMPS, PAPER CUTERS, DIFFERENT TYPES OF PAPER, DIFFERENT SCISSORS, PAINTS, AND MORE. THERE WILL BE SOME CARD DESIGNS ALREADY TO BE PUT TOGETHER, IF YOU DON'T THINK YOU HAVE ANY SKILLS. PLEASE COME AND FELLOWSHIP AND HANG OUT WITH US.
THE FUNDRAISER PART IS A RECOMMENDED DONATION OF $15. $5 WILL GO TO SUPPLIES AND $10 WILL GO TO THE CHURCH IMPROVEMENT FUND FOR OUR NEW ENTRY WAY AND CHAIR LIFTS.