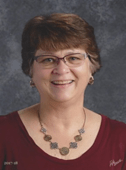 Counseling available by appointment
My name is Karen Chronister.  I have lived in rural Darke County since 1984.    I  have been a Certified Biblical Counselor with ACBC (Association of Certified Biblical Counselors) since May of 2019.   I have been a pastor's wife for over 40 years and a teacher in the public school system for 28 years.   I retired from full time teaching in 2015 and currently work part time in our local high school.  I am a mother of two and a grandmother of five.  
I pursued the arduous process to become a certified Biblical Counselor because God gave me the desire to help people overcome the challenges of everyday life and find a closer walk with Him.  We are all flawed human beings who occasionally need someone to listen and help them over a rough spot.   I help women, children and teens find Biblical answers to their problems involving depression, anxiety, eating disorders, parenting, grief, relationships, etc.  If you, or someone you know, could benefit from this ministry send an email to:  kchronister53@gmail.com.  I will respond as soon as possible.   I would be glad to answer any questions you may have.  For more information about ACBC go to their website at www.biblicalcounseling.com.
People often ask about fees.  Counseling and discipleship are part of the ministry of the church.  I do not have any set fees, but will accept donations to help cover the costs.  Checks should be made out to the church, with "counseling" on the memo line.